Battle of Britain Pilot:


Flight Lieutenant Sydney Howarth Bazley
Nick name whilst at 611 Sq. was "Kidney Bean"
Service number: 90359
Born in Stockport, Cheshire : 03-11-1913
KIFA Gedney Hill , Lincolnshire: 02-03-1941 age 27
Probably flying accident during reconnaissance as commander of B flight 266 Sq.
Another possibility is that he was shot down by enemy fire (see letter P/O R.J.B Roach below)
Spitfire MkI serial X4613 lost starboard wing and crashed
Awarded medals:
(confirmed by Ministry of Defence Medal Office UK)
1939-45 Star with "Battle of Britain" clasp
Air Crew Europe Star
War Medal 1939-45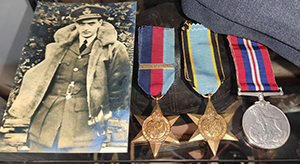 Career:
04-04-1937: Granted commission as P/O in 611 Sq. (day bomber unit A.A.F. until 01-01-1939)
14-11-1937: Entitled to wear Pilots Flying badge
04-10-1938: Promoted to rank of Flying Officer (announced 14-01-1939)
26-08-1939: Flying F/O post 611 Sq. (Fighter Sq. 01-01-1939 onwards)
02-09-1939: First record of flying operationally (K9980)
04-09-1939: Command of 'A' flight 611 Sq. Duxford
21-10-1939: First real operational sortie from North Coates leading Yellow section (L1053)
02-12-1939: Demonstration flight Spitfire at North Coates to Naval and AA Officers together with other representative aircraft from other RAF units
01-03-1940: transferred to 266 Sq. (Rhodesia) at Wittering
05-03-1940: Command of 'B' flight 266 Sq.
03-09-1940: Promoted to rank of Flight Lieutenant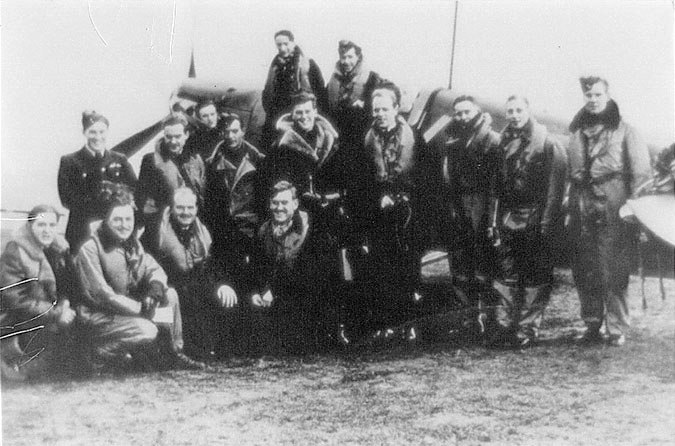 Photograph of 611sq. above was taken at Duxford in 1939.
Standing on wing: P/O M.P. Brown and P/O D.H. Watkins. Standing L to R: F/O B. Heath, F/O H.R. Hamilton, F/O M.P. Brown, F/O S.H. Bazley, P/O C.H. MacFie, F/Lt. J.E. McComb, Sgt. unknown, Sgt. J.R. Mather, Sgt. H.S. Sadler. Kneeling: F/O R.K. Crompton, F/Lt. K.M. Stoddart, F/O W.J. Leather, F/Lt. A.J. Banham Photograph courtesy of Aldon P. Ferguson, historian and archivist 611 Sq.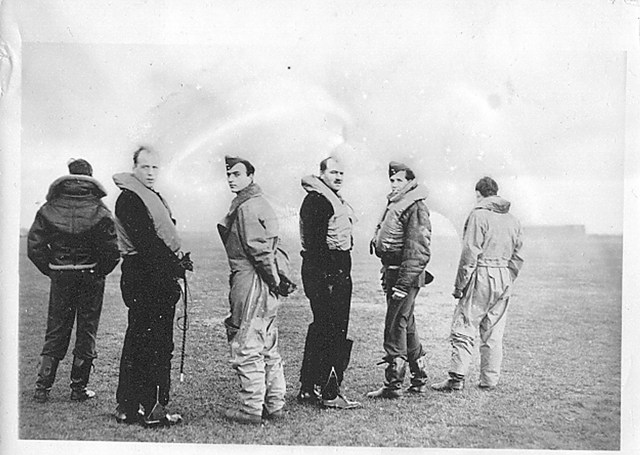 MacFie, McComb, Bazley, Leather, Watkins and Stoddart at Duxford. Speculation: It is possible that this photograph was taken at the same day as the previous one. Only Bazley has changed his clothing and is now wearing a pilots overall...
Photograph with courtesy of Aldon P. Ferguson, historian and archivist 611 Sq.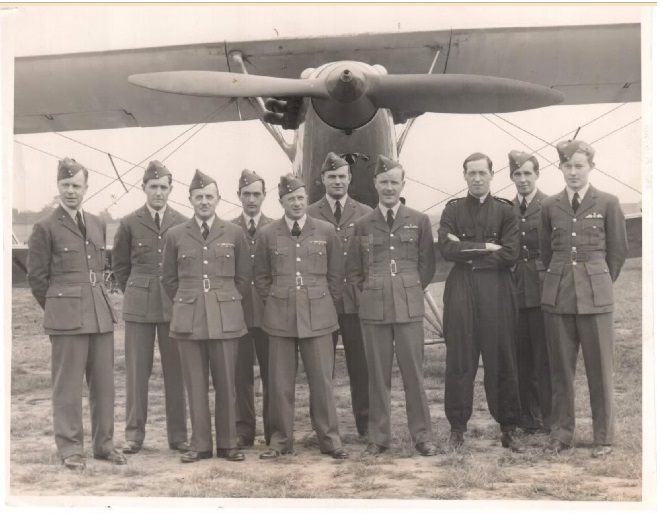 RAF Personnel of 611 Sdn in front of a Hawker Hind, pre May 1939 as this is when the Squadron was newly equipped with the Spitfire MKI. Eight of these pilots took part in the Battle of Britain. Bazley is 4th from the left.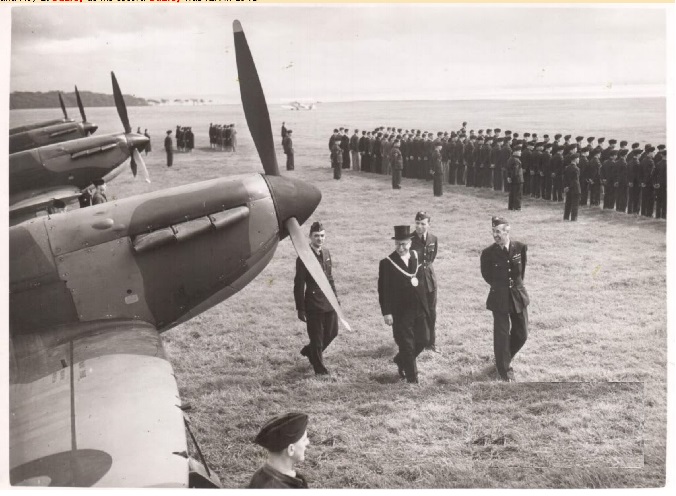 The Lord Mayor of Liverpool inspecting 611 Sdn at Speke in 1939. The photo showing the Squadron's newly acquired Spitfires and also Sdn Ldr Pilkington, the Sdn C/O and Flt / Lt Bazley (nearest to the propellor) as his escort.
611 Squadron
No. 611 (West Lancashire) Squadron was a British Auxiliary Air Force later Royal Auxiliary Air Force squadron first formed in 1936 and lastly disbanded in 1957.
The squadron was formed at RAF Hendon, Middlesex on 10 February 1936 as a day bomber unit. The squadron set up its permanent base at RAF Speke on 6 May and began recruiting personnel from Liverpool and the surrounding area. Its first Hawker Hart light bombers arrived in June, being replaced by Hawker Hinds from April 1938.
On 1 January 1939, the unit became a fighter squadron, receiving its first Supermarine Spitfire Mk.I's in May. The squadron left for RAF Duxford on 13 August. After a period of defensive duties on the east coast, No. 611 became fully operational from its RAF Digby base in Lincolnshire in May 1940, firstly over Dunkirk and then taking part in the Battle of Britain campaign. The 611 had had the squadron code "FY" on the side of their planes. The squadron commenced offensive sweeps over occupied northern France in January 1941, based at RAF Hornchurch, moving to RAF Drem in Scotland for recuperation in November 1941. The unit moved south again in June 1942 to RAF Kenley for deployment on shipping reconnaissance, escort and defensive missions. No. 611 provided covering patrols for the invasion of Normandy in June 1944 from its RAF Deanland, Sussex base. The squadron then moved to south-west England for a short period.
Long-range escort missions began to be flown from RAF Bradwell Bay, Essex, from late August 1944, until No. 611 moved to RAF Skeabrae in Orkney on 3 October. After converting to Merlin powered Mustang Mk.IV's the squadron again moved south, this time to RAF Hawkinge in Kent and resumed escort duties for the rest of the war. The squadron disbanded as an RAF squadron on 15 August 1945 at RAF Peterhead.

Squadron line-up at summer camp at Ramsgate, 1937 Photo: 611 Sqn Collection, courtesy of A.Ferguson, archivist 611Sq.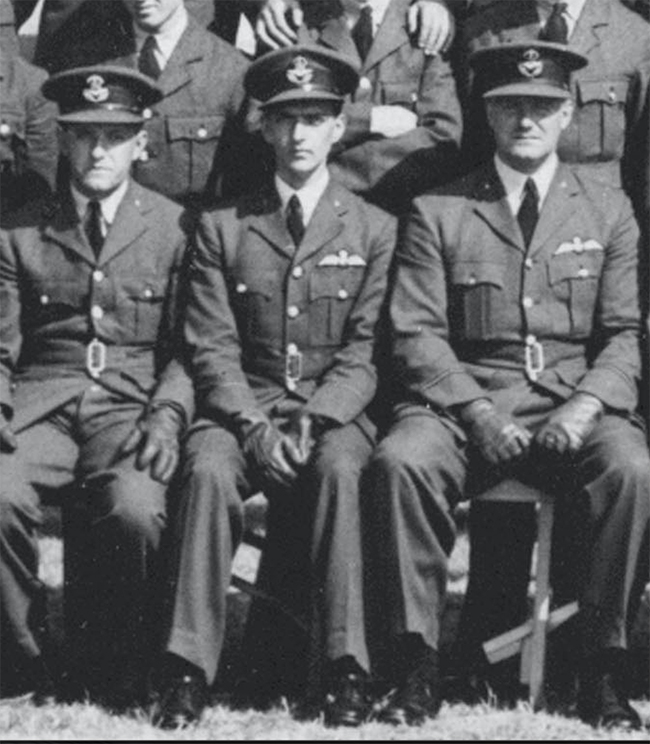 enlarged section of group photo with Bazley in centre....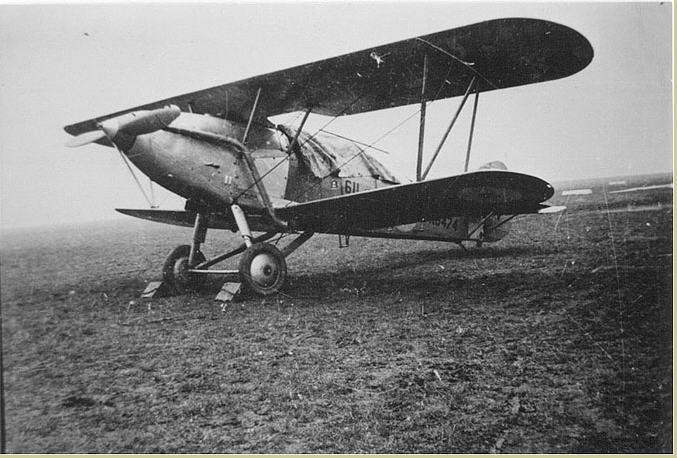 Hawker Hart of 611 Sq. at Speke Aerodrome Liverpool
266 Squadron
No. 266 Squadron RAF was reformed, after it was disbanded on 1st of September 1919, on 30 October 1939 at RAF Sutton Bridge as a fighter squadron. The squadron was one of the Rhodesian gift squadrons and was named 266 (Rhodesia) Squadron in honour of the gift. Originally it was equipped with the Fairey Battle light bomber, but soon after in January 1940 it received the Supermarine Spitfire and became a fighter squadron. It was in action over Dunkirk in early June and fought in the Battle of Britain. To rest the squadron it was moved north to RAF Wittering to carry out patrols over France. The 622 had the squadron code "UO" on the side of their planes. Some scarce footage of 622sq. in action during the Battle of Britain can be seen on the video below.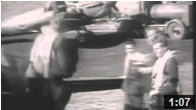 In January 1942 the squadron moved to RAF Duxford and re-equipped with the Hawker Typhoon. The squadron changed role to fighter-bomber in support of the Normandy invasion and flew also armed reconnaissance missions in support of the invasion forces. The squadron moved along with the fighting forces and was disbanded at Hildesheim, Germany on 31 July 1945.
During his time in the RAF in 611 Sq. and 266 Sq., Sydney H. Bazley had a few daunting moments which are recorded in the flying records and combat records. On 15th July 1940 Spitfire aircraft N3245 damaged after landing heavily during night flying practice. Pilot Flt Lt S.H. Bazley was uninjured. On the 16th of August 1940 at 12:45pm he suffered burns and minor injuries after he was shot down by a Bf109 and bailed out of his Spitfire MkI (P9312) near Canterbury
.
Image taken of Bazley in hospital on 23 aug 1940 after he bailed out
Here's a full account of the action of that day, 16th august 1940, regarding 266 Sq.:
Squadron leader Rodney Wilkinson's 266 Squadron had moved from Wittering in 12 Group to Hornchurch just two days previously (move from Wittering to Hornchurch 266 Sq. on the 14th of august 1940) and had yet to see any intensive combat during the Battle of Britain. At Wittering,, Wilkinson's Spitfires flew the usual round of monotonous convoy protection patrols around the east coast, chasing off enemy raiders. Since Dunkirk, however, the Squadron had not clashed with the Me 109; time and time again throughout the summer of 1940, inexperienced squadrons would move into the combat zone only tob e decimated on their first substantial intercept. They were unprepared for the massively increased and vicious tempo of battle caused by the precense of Me 109's – the experience simply traumatic, as 266 Squadron was about to discover.
As hauptmann Karl Ebbighausen led his II/JG 26 Stabsschwarm back out over Deal, heading back to Marquise, Squadron Leader Wilkinson led seven 266 Squadron Spitfires down to attack the enemy escort fighters. In the subsequent combat, Ebbighausen disappeared, the third II/JG 26 Kommandeur to be lost in just three months. The 266 Squadron, however, was virtually annihilated: Squadron Leader Wilkinson crashed in flames and was killed at Eastry Court, near Deal, and pilot Officer N.G. Bowen's Spitfire N3095 also became a 'flamer', the 20 year old pilot being killed, his fighter crashing at Adisham. Spitfire P9312 was also set alight, and crashed near Canterbury, but fortunately, the Pilot Officer and commander of B-flight, Sydney Howarth Bazley baled out with burns and minor injuries. He would be promoted to Flight Lieutenant on the 3rd september 1940, which was roughly two weeks later. Sub-Lieutenant Henry la Fone Greenshields, a Fleet Air Arm pilot serving with Fighter Command during this desperate hour of need, was reported missing: persued over the Channel and shot down by Leutnant Gerhard Müller-Dühe of II/JG 26, his spitfire crashed and burnt out in Calais, the 22 year old pilot being buried in France. Pilot Officer S.F. Soden's Spitfire was badly damaged and forced-landed near Faversham, the pilot slightly wounded; Sergeant Eade came off best: although his aircraft was badly damaged over Canterbury, the pilot was unhurt. Of the seven Spitfires that Wilkinson had led into battle just a few minutes earlier, by the combat's conclusion five had been shot down, with three pilots killed, including Wilkinson himself, two more wounded and a further aircraft damaged. This outcome was absolutely disastrous, 266 being withdrawn from the front line a few days later.

Bazley was later credited for shooting down an twin engine Bf110 on the 12th of August 1940. Click on the image below to read the complete combat report.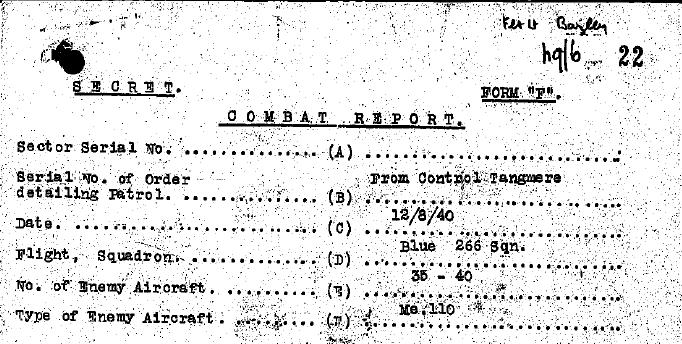 At the 11th of September 1940, Bazley was credited with a probable kill of a Dornier 215. Click on the image below to read the complete combat report.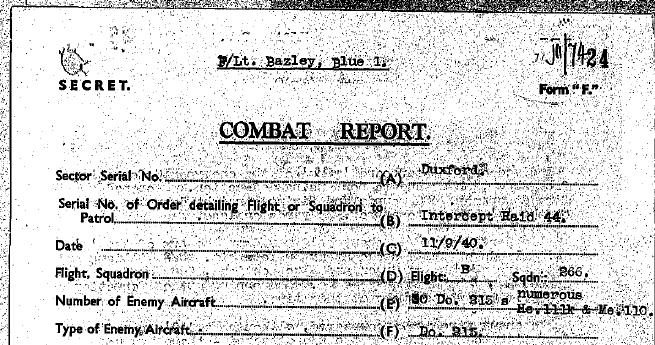 From the records of the RAF it could be retrieved that Bazley has at least flown the following Spitfire's during his career:

Spitfire MkI serial: L1053
Spitfire MkI serial: L1080
Spitfire MkI serial: K9980
Spitfire MKI serial: N3245
Spitfire MkI serial: P9312
Spitfire MkIa serial: X4613
Parts of X4613, the actual Spitfire MKIa in which Bazley had his fatal flying accident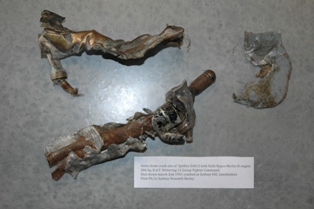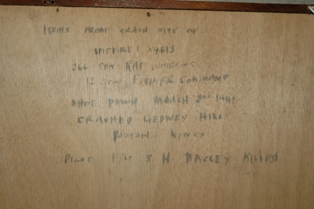 Remarkable is that the board which came with the parts states that the airplane was "shot down" instead of "crashed because of losing a wing". This is a important point, because most official records states that the aircraft had a flying accident. There are two papers in which a flying accident is denied.
The 266 Sq. record book states the following about the fatal crash of X4613: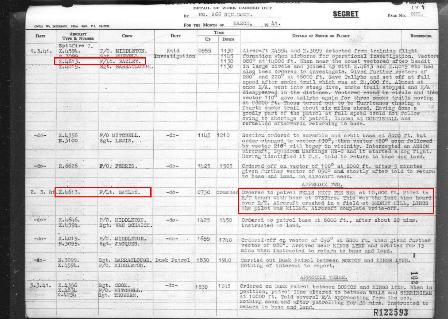 Time up: 0730 Ordered to patrol WELLS NEXT THE SEA at 10,000ft Pilot in R/T (radio transmission) touch with base at 0739hrs. This was the last time heard over the R/T. Aircraft crashed in a field at Gedney Hill, LINCS. The pilot was killed. Aircraft complete write off.
The Operations Record Book states the following about the incident:

Average temperature. Bright sunshine. Visibility good. Non operational flying included flight formation, cloud penetration, camera gun practice, aerobatics, Dusk landings. Operational flying. Three raid investigations, dusk patrol by two aircraft. Spitfire X4613 piloted by F/Lt. S.H.Bazley crashed at Gedney Hill, LINCS during raid investigation. Pilot killed. F./Lt. Bazley has been in command of "B" flight since 5th march 1940
In the book "Spitfire The History" from Morgan and Shacklady it's mentioned on page 91 that the MKI's wings could come off when the plane was taken beyond its designed 10G structural integrity . This is also mentioned in this official RAF document:
Furthermore this document seen below from the RAF archive, also states that Bazley was killed at Gedney Hill because his Spitfire X4613 lost a wing.
A 10 march 1941 dated letter written to the mother of Bazley from fellow BoB pilot and good friend of Bazley, P/O R.J.B.Roach, who flew the mission with Bazley that day could shed some light why there are contradictional testimonies about the incident.
In this letter, R.J.B.Roach explains that the plane could have crashed by enemy fire of a German bomber, a collision with the enemy bomber or failing of structural integrety of the starboard wing.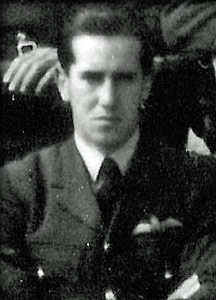 photograph above is a period image of P/O Robert James Bain Roach
Personal:
Born in Stockport, Lancashire on the 3rd of November 1913. Only son of Francis Howarth Bazley (Frank) born 28th jan 1876-died 4th feb 1942 and Beatrice Broadbent born in 1875 at Antrim, Belfast . Frank and Beatrice married in 1909 in Ormskirk, Lancashire. They lived at Spring Bank House, Chorlton Fold, Bredbury, Stockport and had two servants. In 1901 Frank H Bazley lived on Chelford Road, Knutsford with his father Charles H Bazley, a retired cotton spinner. Frank was working as a civil engineer, he was born in Salford, Lancashire.
In 1881 Beatrice lived with her family in the Isle of Man. Her father was a retired flax spinner, and they had five servants. In 1901 Beatrice Broadbent was living in Ormskirk with her Aunt and five sisters.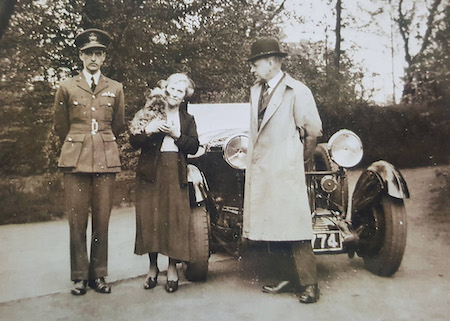 Photograph above: Bazley with parents Beatrice and Frank. In the background the Lagonda.

Frank was a son of Charles Henry Bazley and Alice Elizabeth Bazley and had earned his living being the sole managing director of Thomas Mason and Son (Ashton under Lyne) Limited, cotton spinners and manufacturers from 1931. The Bazley family was therefore an reasonable wealthy family.


Sydney Bazley was living at "Hutton Dene", Didsbury Road, Heaton Mersey, Lancashire in the late thirties until "Hutton Dene" was destroyed during the Manchester Blitz on 22nd December 1940.
This property formerly belonged to the Boddan family who are well-documented residents of Heaton Mersey.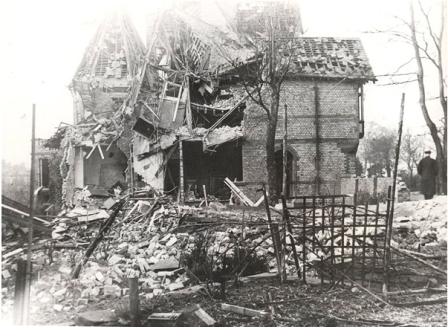 "Hutton Dene" the house of Sidney Bazley, destroyed during the Manchester Blitz on the 22nd December 1940
His address could be retrieved by cardboard tube which was send to him by the R.A.F. when he was still an A.A.F pilot with 611 Sq. and by the public announcement of his death in the Gazette.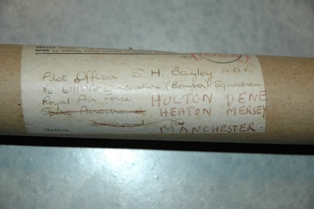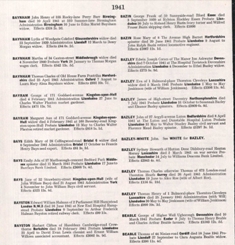 An interesting thing is that the cardboard tube was first send to Speke Aerodrome in Liverpool, which is actually the permanent base of 611 Sq.in the early days. The cardboard tube has a postal stamp of 24th September 1937 when he was still with 611 Sq. It also suggests that Bazley was living in "Hutton Dene" well before the war started.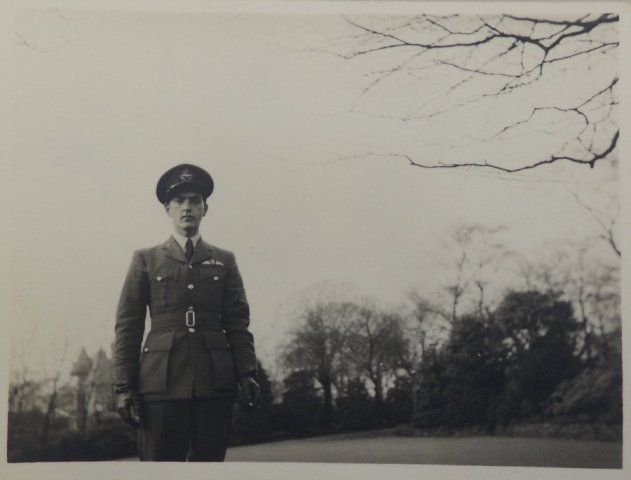 Flt/Lt. S.H. Bazley most probable posing for the camera in his backyard with "Hutton Dene" in the background.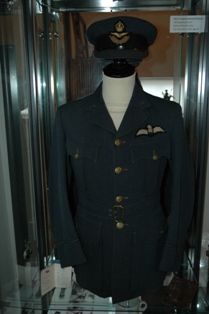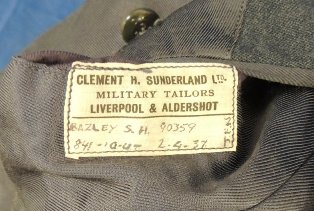 This is the actual uniform complete with cap of Bazley he wore on the photograph above. This piece is also part of my collection.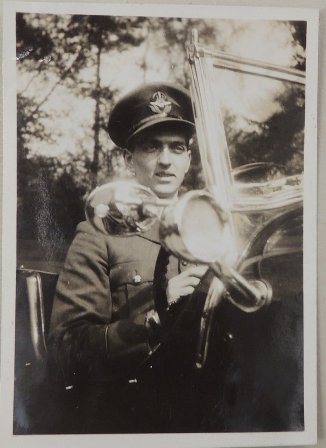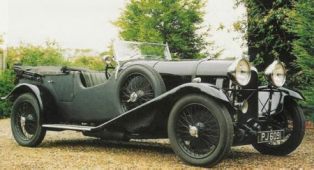 Bazley in his Lagonda 2Litre Tourer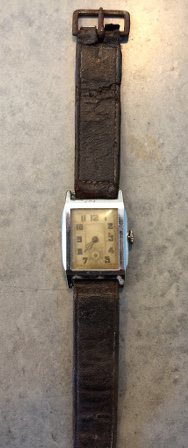 This photograph shows that Bazley wore his watch on his right wrist which probably indicates that he was left handed. The last contact with Bazley over the RT with the station was at 07:39 hours. The small watch hand is stopped just before 08:00 hours. This watch is also part of my collection.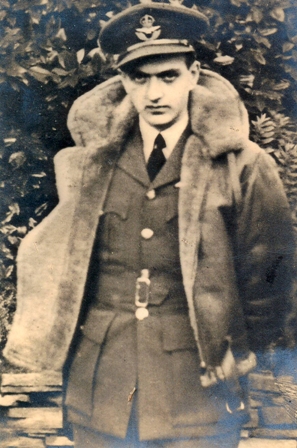 Unfortunately not seen on any picture I have in my possession, his pilots flying helmet type B dated 1940, is also part of my collection together with his personal Pilots Pocket Book.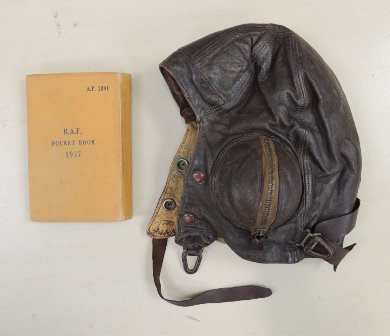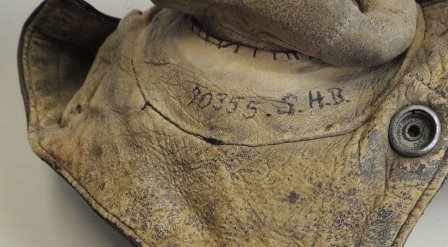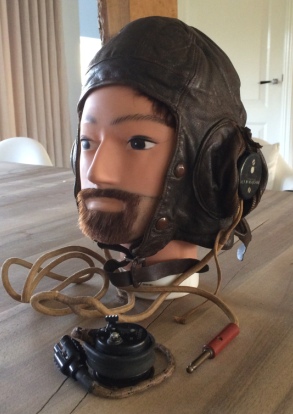 Burial:
On Saturday 8th march 1941, six days after his unfortunate flying accident, Sydney was cremated at Leicester City (Gilroes) Crematorium. A friend of the family was attending the ceremony on behalf of his parents. In his letter to Frank Bazley, he reports about the funeral, the letter reads as follows:
Grand Hotel Leicester
8th march 1941
At your request I attended the service at the Crematorium. Leicester this afternoon, the weather turned out beautiful.
I met a few of the officers at lunch and introduced myself to them. F/O Noble from Perseverence Mill of course I knew. Alf and I then went on to the Cemetry. There we were met by F/O Cobb, adjutant of the Squadron. He introduced us to P/O Roach ( a dear friend of Sydney's). Sq.Ldr. Morice, F/O) Howitt, Flt.Lt. Armitage, F/O Noble, P/O Hardy and Sq.Ldr Mossop, the Padre who conducted the service.
Sydney's coffin was placed on a large R.A.F. wagon covered with the Union Jack. He was covered with flowers from his friends.
The tributes were as follows:
Commanding officer and Officers R.A.F. Wittering
Commanding officer and all ranks R.A.F. Wittering
Commanding officer and Officers 266 Sq.
N.C.O.'s Airmen of B flight and Batman
N.C.O. and Airmen 266 Sq.
Squadron Leader Smart and Family
I placed flowers from yourself, Mrs. Bazley and crematorium headed by men, firing party and buglers. The bearers walked beside the wagon followed by myself, Alf and the Officers. The service was simple and beautiful. The firing party stayed outside and as Sydney went for his golden wings they presented Arms and the Last Post was sounded.
Please do not mourn, his was a great end, greater than I can ever hope to earn.
If you heard what they said about Sydney you would have been proud as I know you are. Tell Mrs. Bazley as she loved him so was he loved by all his squadron, officers and men alike.
No greater tribute can be given. He died fighting for his country like the true Gentleman he always was. I cannot say any more. I hope you will be satisfied with my service. I did it for you and your family but believe me it nearly got me down.
I have brought his ashes home.
May God bless you all,
Yours always,
Geo
At Gilroes cemetery, were he was cremated, his name is ingraved on top of the list on panel one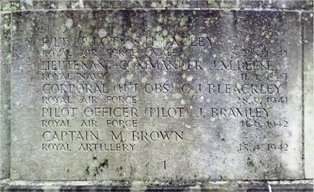 In memory of her son, Mrs. Bazley had composed some verses which she send to Mrs. Churchill on July the 7th 1941. She received a thank you letter from Mrs. Churchill written on July 13th 1941 signed by her private secretary Grace Hamblin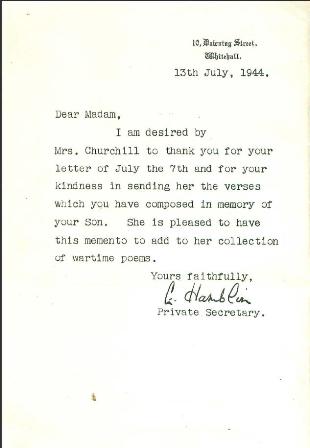 Other personal artefacts of Bazley in my collection:
Bible, leather wallet with his initials, some receipts with his name on it were in the wallet and a home made wooden rememberance propeller with his name carfed in it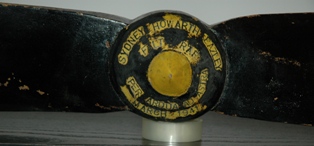 Acknowledgements for this page:
Aldon P. Ferguson, historian and archivist 611 Squadron R.A.F. http://www.611squadronrauxaf.co.uk/index.html
Local Heritage Library of Stockport, Lancs
Craig Wise, "Bomber County Aviation Reasearch" founder and joint Chairman http://www.bcar.org.uk